Polo Tecnologico di Pavia
Skin Summer School 2018 - 7a edizione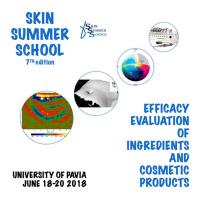 Efficacy evaluation of ingredients and cosmetic products
Corso per valorizzare i cosmetici.
Dal 18 al 20 giugno 2018
Skin Summer School punta a migliorare le capacità di supporto che possono essere usate per convalidare le richieste in cosmetici.
Il corso offre un intensivo programma per chi vuole valorizzare i cosmetici.
Il corso è indirzzato a: compagnie di cosmetici, ricercatori, dottori di ricerca e chiunque sia interessato e vuole sapere di più a riguardo.
Lezioni e workshop saranno tenute sia da professori dell'accademia che da esperti delle compagnie private.
Lingua del corso: inglese
Presidente: Paola Perugini
Dal 18 al 20 giugno 2018
Scadenza offerta "Early bird": 8 giugno
Per maggiori informazioni

Websites: labunicosm.it (section: Congressi)
etichub.it (section: News)
Secretariat: segreteria.etichub@gmail.com

---
The Skin Summer School aims at providing best practices specifically related to the type of evidential support that can be used to substantiate claims in cosmetics.
This course offers an intensive training program designed for who wants to give value to cosmetics.
The School is addressed to Cosmetic Companies, PhD Students, Researchers and it may be relevant to anyone interested in learning more on Efficacy Assessment of Cosmetics and topicall products.
The School will feature classes by world class experts from both academia and private companies, including several workshops.
Official language: English
Conference president: Paola Perugini
From 18th to 20th june 2018
Early bird registration deadline: June 8
For more information about registration and how to submit an abstract:
Websites: labunicosm.it (section: Congressi)
etichub.it (section: News)
Secretariat: segreteria.etichub@gmail.com
Polo Tecnologico di Pavia
Via F.lli Cuzio, 42
27100 Pavia (PV)
Tel: (+39) 0382 1726248